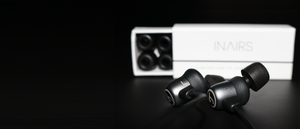 100 000 Happy EARS
Delivering more powerful sound to audio fanatics since 2015

1383 FIVE - STAR RATINGS
Experience a product quality that has been given the highest ratings

2300 SUPPORTED HEADPHONES
Get the foam tips that were made for your favorite headphones
It's simple
How does it work?
1. Click GET STARTED to select your headphones and get matching foam tips
2. Get your FOAM TIPS in ear sizes: small, medium or large
3. Put them on your headphones and hear the difference.
The Power of Foam Tips
Your Workout Partner
The heat-activated foam adapts to your ears. Enjoy less pressure and overall weight of the headphones on your ears.
Experience HD Sound
Authentic, clear sound for an immersive listening experience. The foam delivers distortion-free bass and natural tonality.
Turn off Distractions
INAIRS are designed to put the world on mute. Anytime, Anywhere. Silence any noise with advanced noise isolation.
INAIRS
Perfect Match
1. Remove silicon tips
2. Put the INAIRS foam tip on
3. Press together & slide in ear
What our customers say
Unparalleled Customer Service.

If you have ears, you need these.
I ordered the wrong size the first time and they immediately refunded me when I placed a second order
...if that isn't the best customer service on the planet... you must be from a different planet.

Mirrodin
What a revelation!

I've always used the standard supplied silicone tips with my earbuds, but when one went missing recently I thought I'd give something else a try. And what a revelation! They're more comfortable, better sounding, better fitting, better sound isolating than the silicone tips.

Mr. P. Mitchell
I missed the smoke alarm

Ok so I have denon in-ears and I thought I'd give these a shot, put them in a few mins ago and Jesus Christ the sound quality is insane. As for noise cancellation I couldn't hear the smoke alarm for burnt toast so that's an ambiguous win.

J Whyman